WSO2
WSO2 uniquely increases the agility of digital businesses and enterprises engaging in a digital transformation. It offers the only completely integrated enterprise platform that enables businesses to build, integrate, manage, secure and analyze their APIs, applications, and Web services—on-premises, in the cloud, on mobile devices, and across the Internet of Things. Leading enterprise customers worldwide rely on WSO2's award-winning 100% open source platform and its robust performance and governance for their mission-critical applications. Today, these businesses represent nearly every sector: health, financial, retail, logistics, manufacturing, travel, technology, telecom and more.
WSO2.Telco
WSO2.Telco products allow Mobile Network Operators to leverage existing infrastructure, implement additional revenue streams and remain relevant in the digital age.

WSO2.Telco has created a robust, flexible, open source platform that can be deployed on cloud or telco premises to allow operators to quickly and efficiently publish their APIs (such as USSD, SMS, Direct Operator Billing) to developers and companies.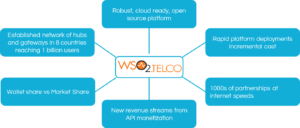 The use of these APIs in third party applications allow MNOs to draw revenue from a percentage of sales, gather information on user behaviour, and provide end users with an easy, secure avenue to access websites, purchase products and manage their online identity
Our hubs and gateways can interconnect allowing companies from all over the world to reach the customer base of a participating MNO which in turn can greatly increase the market reach for local companies
WSO2.Telco hubs and gateways power 40% of the total 2.8Bn Mobile Connect enabled users across the world
WSO2.Telco powers South America's first Mobile Connect country hub
Brazil's seven leading mobile network operators (MNOs) are using WSO2.Telco's Digital Enablement Hub to deliver GSMA's Mobile Connect mobile-based authentication solution. Together, the MNOs serve more than 136 million consumers across Brazil. This marks a new milestone for WSO2.Telco, as it is the first Digital Enablement Hub launched in the Americas. Currently, WSO2.Telco technology powers a Digital Enablement Hub for Axiata, one of Asia's leading telecommunications groups, as well as a Mobile Connect Hub in India that brings together six Indian operators serving over 800 million customers.
The solution delivers unparalleled ease of use for mobile users, who can now securely access a range of websites, apps and services by using their unique mobile numbers for identification. The Mobile Connect solution offers increased user engagement driven through easier navigation and fraud prevention facilities, which greatly enhances the experience of digital services provided.
At the same time, service providers who work with the MNOs benefit by being able to offer them all the benefits of Mobile Connect, including an easy, intuitive user experience along with robust security. Significantly, service providers are gaining access to what is by far the largest hub in Brazil, enabling them to reach a majority of mobile consumers in Brazil through a single integration with the WSO2.Telco-powered hub.
Key features include
Complete API management Hub in the cloud for communication providers and enterprises
Full monetization framework with multiple rating templates
Powerful OpenID Connect compliant Identity Gateway for SSO, Federated Identity, Attributes & device ID.
Rapid on-boarding of services and publishing of APIs
Addresses local data and privacy regulations through enhanced API security, authentication and anonymization algorithms
Multiple Telco adaptors and APIs, which are fully GSMA Mobile Connect compliant.
Key benefits
Single point of integration exposing simple REST APIs
Secure layer independent of your core business systems
Choose to publish APIs for wider public developer ecosystems
Cost effective Opex model using end-to-end managed cloud delivery infrastructure
Easy future migration to dedicated instance with no re-engineering
Enjoy partnerships with wider WSO2.Telco Hub ecosystems